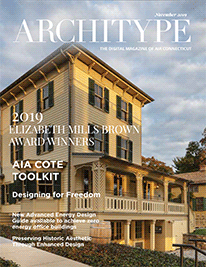 Jointly presented by AIA Connecticut and the Connecticut Trust for Historic Preservation, the Elizabeth Mills Brown award recognizes projects that are noteworthy both as respectful preservation of historic places and as excellent architectural designs.
Foreclosed and on the verge of condemnation, the restoration of the circa 1765 Hillhouse-Sallembien residence is an outstanding example of architectural and cultural preservation.
This colonial house is notable not only for its architectural character, but as the homestead of one of Connecticut's founding families.
The Hillhouse name included representatives of the colony to England and the Continental Congress, as well as the early state and federal government.